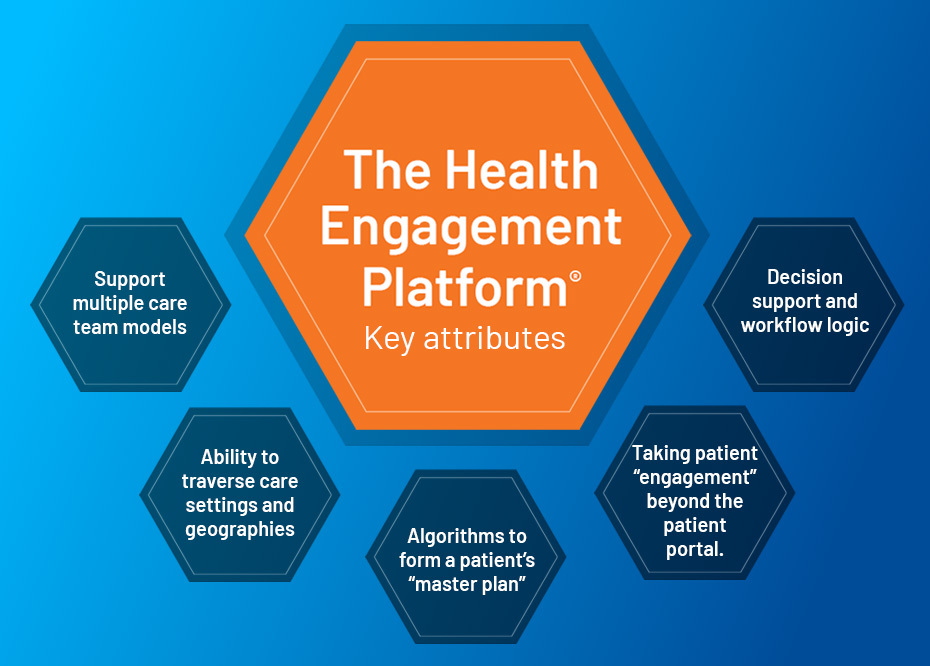 Taking patient "engagement" beyond the patient portal.
Scheduling appointments, refilling prescriptions and looking up lab results are important, but true engagement comes first in understanding unique patient needs, wants, motivations and barriers to achieving care goals and the lifestyle changes needed to be successful; and then in supporting patients along the journey to achieving those goals.



Algorithms to form a patient's "master plan".
Patients rarely have just one, clear, manageable issue. A smart platform would take in a variety of inputs and combine appropriate algorithms for treating a patient's asthma, arthritis, depression, and weight reduction without the clinician having to synthesize these disparate data points on their own.



Support multiple care team models.
Each care team member is able to see both the patient's master plan and the relevant data and prioritization that is specific to their role and scope of practice. With the growing dynamic of team-based care, each member has a personalized dynamic dashboard to work in.



The ability to traverse care settings and geographies.
The master plan and supportive tools need to travel seamlessly with the patient, whether they are at home with devices tracking their activity, sleep, and blood pressure; or on the road for work or play, even when seeing a specialist. The primary care team then needs the relevant data and information to come back to them through the platform in meaningful and actionable ways.



Decision support and workflow logic.
The platform must remind care team members and patients of upcoming and overdue activities, suggest changes in the master plan when patient conditions and care needs change, and route messages to the appropriate care team member regarding new test results, data trends negatively, or when patient health goals aren't on track or being met. All of these long before an adverse event occurs.
At scale, the Health Engagement Platform facilitates the thousands of master plans seamlessly, undergirds a myriad of patient/provider workflows, simultaneously traverses multiple care settings, and supports hundreds of thousands of highly personalized provider decisions; so that a population can be proactively managed as never before. This is the future of healthcare technology!